Macomb Twp, Michigan Foundation Contractor
Professionally licensed foundation repair experts in eastern Michigan
Foundation repair in Macomb Township, MI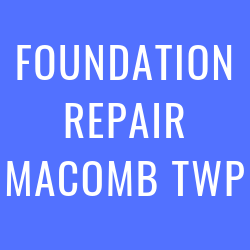 As the population has grown by the thousands in the last 15-20 years in Macomb Township the amount of foundation repair and restoration projects our crews have done there have increased all the same.
The municipality is the hub of Macomb County and has attracted folks with business opportunities, delightful residential neighborhoods, and sprawling parks. It's one of our favorite places to work in the metro Detroit, Michigan area.
Our service areas extends to each section of Macomb Township, including Macomb Corners, Meade, and Waldenburg, as well as outside the township limits to Chesterfield Township, Sterling Heights, Clinton Township, Lenox Township, Harrison Township, and other nearby communities.
Our experienced team of contractors, engineers, foremen and construction technicians are licensed, insured, and specially trained to fix foundation issues that may arise in any type of structure — from concrete to brick and everything in between. Our professional service is backed by lasting repair methods that carry long warranties.
We lend a hand to home and commercial business customers needing repairs for cracking, bowing, and failing basement walls, as well as several other brick and masonry services.
If you believe your foundation requires expert repair, contact our company at a time that is most convenient for you. We offer peace of mind through thorough our detailed inspections and free estimates with no obligation.
Basement services in north metro Detroit
We take enormous pride in being a full-service masonry, brick, concrete, and foundation contractor in Macomb County. Being full-service basically means that we provide routine and complex repairs, restoration, and waterproofing solutions to all foundation, chimney and brick trouble areas in any structure.
Many factors can result in foundation cracking, heaving, sinking and bowing. Issues are usually caused by weak soil, soil that expands due to freezing and thawing, improper yard drainage that breaks up surrounding soil, protruding tree roots, and/or poor original construction.
We help with the following issues (and quite a few others):
Foundation cracking
Foundation bowing
Basement sinking and settlement
Wet and leaky basements
Uneven and sagging floors
Foundation heaving
Tipping chimney
Cracking and damaged brickwork
Foundations needing inspection
Soggy yards and lawns
Cracking drywall
When repairs are needed, we produce for you an accurate and detailed report outlining problem areas. In the report, we offer repair solutions and other information to help you make the best decision considering your budget and needs.
Symptons of structural issues
If foundation work is absolutely required, being proactive will more than likely lessen the amount of work needed and generally save you a significant amount of money on the project. The problem is it can be difficult to figure out if you indeed have problems that necessitate the assistance of a professional local contractor.
We strongly advise that you monitor your basement walls and floors monthly (or more often) for cracking, chipping, moisture, and leaks. Also, pay attention to the following not-so-obvious signs of a troubled foundation:
Windows out of square
Doors that jam and are difficult to open
Bouncy or uneven flooring
Gaps at the tops or bottoms of walls
Popped out nails
Cracks in drywall
Displaced moldings
Chimney tipping
Gaps around chimney
Plumbing leaks
Affordable basement pros in Macomb County
With more than 20 years in the foundation repair industry in the Detroit metro area, we realize that you have many options when it comes to selecting a professional contractor in Macomb. Two or three of our competitors have decent reviews on Yelp, Google, and Facebook. We don't like to brag often, but we feel we're the very best thanks to the following reasons:
Our affordable rates. We may not be the lowest-cost contractor in our area, but our reasonable costs combined with trusted work make us a true value among basement contractors in Macomb Twp. We also do everything possible to stay within your budget.
We're cutting edge. Our contractors, technicians, and engineers attend many trainings and continuing education seminars and conferences throughout the year. This helps them stay current on modern methods and technology for masonry, brick, and foundation repair.
We're professional. Our employees are courteous, friendly, well dressed, and knowledgeable. We work with passion, at a time and day that works best for you, and we promise not to leave your home or property looking like the aftermath of a Detroit Tigers victory party.
We offer free estimates and reliable consultation. We're happy to come to your property when it fits your schedule to provide a thorough evaluation of your foundation, an estimate, and a detailed plan for repairs if they are necessary.
Our work is backed by lifetime warranties and permanent solutions. We depend on methods and technology that offer lasting remedies – not just a band-aid over the issue.
Call us today to find out more about our foundation and masonry services and to set your appointment for an on-site consultation and free quote.
Foundation Repair Macomb Township
51339 Milano Dr #205
Macomb, MI 48042
(586) 204-8518
REQUEST A FREE FOUNDATION REPAIR ASSESSMENT
We closely evaluate the interior and exterior of your residence or commercial business structure to determine the cause of foundation problems and what is needed to fix them. We take advantage of many repair methods that address specific problems and offer quality long-term solutions.
We provide the following options for foundation stabilization:
Steel push piers that extend to stronger soil for settling
Helical piers
Plate anchors,
Hydraulic slab lift pier
Foundation brackets
Wall anchoring
Steel push piers
Steel I-beams
Hydraulic cement, caulk, epoxy injections, mortar, polyurethane polymer and more for minor repairs
Underground pipes, French drains and dry well for basement waterproofing
In addition to Macomb, we also serve other nearby towns, cities, and communities in the northern Detroit suburbs. They include:
Royal Oak
Farmington Hills
Birmingham
New Baltimore
Southfield
Roseville
Fraser
Washington Twp
Grosse Pointe
Redford Charter Township
Clinton Township
Troy
Pontiac
Beverly Hills
Franklin
Bingham Farms
Berkley
Oak Park
We are proud partners of foundation repair professionals in Detroit.